There really are no "
rules to pattern mixing
." You can put together any print, or even
clashing prints
to create unexpected outfits. But, for our purposes let's talk about everyday looks that are polished, sophisticated, and appropriate even for the office!
The two simplest ways to pair prints together are either
1)
combining a small scale print with a larger scale print or
2)
combining a stripe, polka dot, gingham, or animal print with any other print. Typically just two prints are great to combine - If you're wanting more layers for your look, add in neutral solids such as
chambray
*, white, black, army green, tan, etc. vs. adding in a third or fourth print.
Many suggest finding a common color (or colors) that tie the two prints together. This is a good suggestion, but not absolutely necessary in my opinion. More importantly, consider the intensity of your color palette - mix pastels with other lighter tones and brighter hues with other bold tones. You can also use patterns with the neutrals I mentioned previously - white, black, army green, and tan. These go with virtually any color whether they be pastel or bright.
Stripes, florals, and polka dots are the easiest patterns to combine so start here and continuing playing with other prints as you get more comfortable.
Jessakae
A Beautiful Mess
Belle of the Ball
Gingham is also a great neutral print to mix with others. Notice the scale in the example below...the gingham is small and tight, which pairs nicely with the blown up floral.
This gingham is a little larger in scale, but the flowers are also more bold so the two "are going to the same party" as some might say.
These two prints do not have a common color, but the ditsy floral and pastel gingham have the same soft feel. And notice the use of army green as a neutral - see it does go with everything! I'll have a post coming up later on how amazing army green, and even camo, can be as staples in your wardrobe.
Both polka dots and animal prints are "neutral prints" that can pair with any other print, and also each other as this example shows! It also shows how great prints can "match" without any common colors at all.
Style Me Grasie
*Chambray (pronounced /
SHamˌbrā
/)
is made in both prints and solids, but in current fashion is most often seen in the form of a blue button-up shirt that looks like lightweight denim. See some
examples of chambray here
. Think of chambray like your favorite pair of denim jeans...it goes with absolutely everything! It's nice to have a few difference shades of chambray shirting on-hand as basics in your wardrobe. Wear buttoned-up and tucked into a skirt, un-button and wear over a tank, or tie around your waist!
Wanting to
up your ante
?! I've provided some great examples of more forward patten mixing that show intentionality in coordination and refrain from looking like they got dressed in the dark.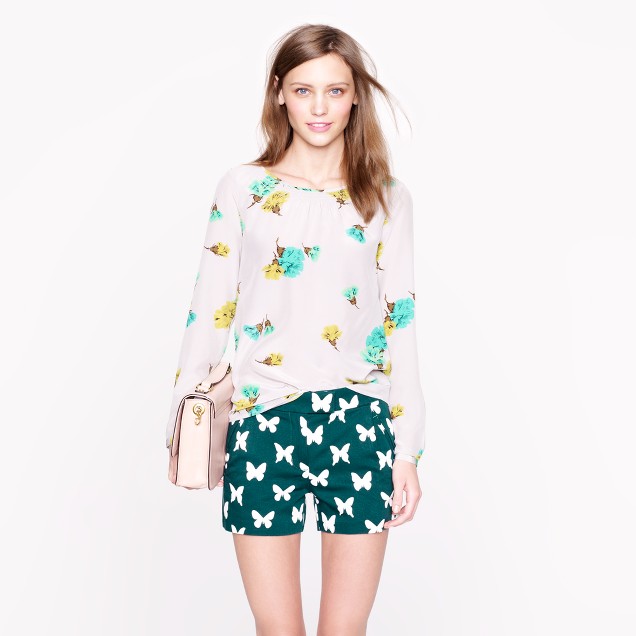 JCrew
I'd love to see some photos of the looks you've put together with creative pattern mixing, maybe they'll even be posted in a future blog post so we can all be inspired! Please email to hello@fortandfield.com with the email titled "I've got pattern mixing down pat!" Please include your name and a link to your blog or instagram.
Also please include any tips and tricks of your own in the comments below.